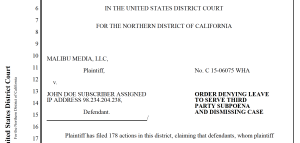 FightCopyrightTrolls.com reports that Malibu has recently lost fifteen lawsuits in California due to untimely filings. Malibu has filed over 433 lawsuits so far this year (2016).
You may know that Judges often have discretion to allow parties some leeway in the procedural execution of a court case. Malibu's cases are numerous, and Federal Civil Procedure is well established.
Malibu Media's attorneys, some of whom seem to be responsible for hundreds of cases at a time, filed motions for time extensions just a little bit too late.

Judge William Alsup, of the Northern District of California, exercised his discretion. He denied the extensions of time to serve summons on the defendants. And, since there is now no way to comply to with the service rules, he dismissed the cases.
As an added bonus, Judge Alsup also set some local precedent, which may be good form for future filings: "Counsel should have acted promptly and diligently, and going forward, plaintiff must seek leave to serve such subpoenas within the first thirty days after a case is filed."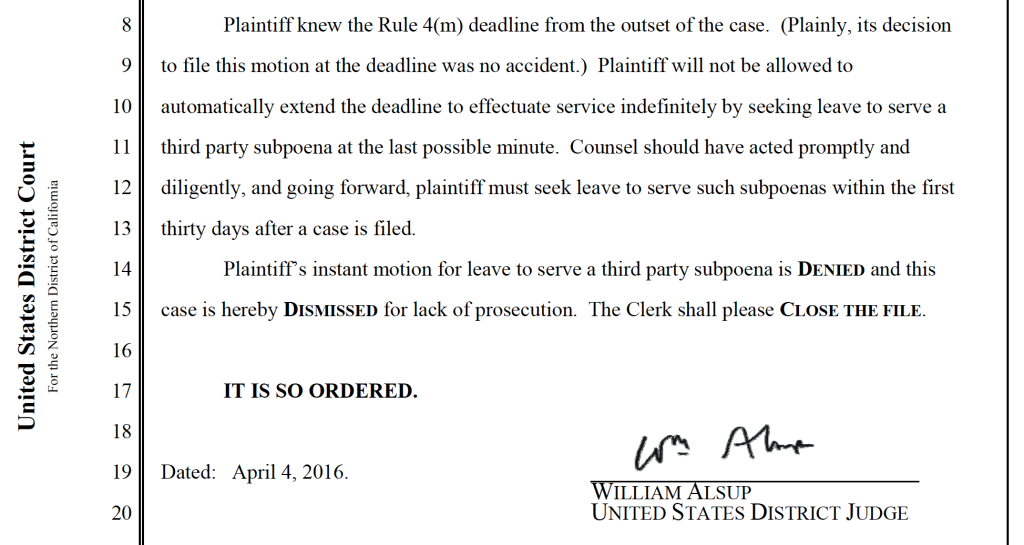 I'm marking this post for all jurisdictions because it highlights the importance of experienced legal counsel. Your defense attorney must understand all the opportunities which may increase the chances of your case being dismissed. Plaintiff's mistakes can mean thousands of dollars of savings in liability.
If you or someone you know has received notice of a Malibu Media of other file-sharing lawsuit, please don't hesitate to call, even after-hours, at 888-801-8681. I have a ton of experience against Malibu Media, including defending one of the first defendants in the first trial in the country.
Please read this subpoena and summons guide for some clarity on some basic information. I will be able to help you understand exactly what's going on so that you can move forward.
Yours,
Leonard French