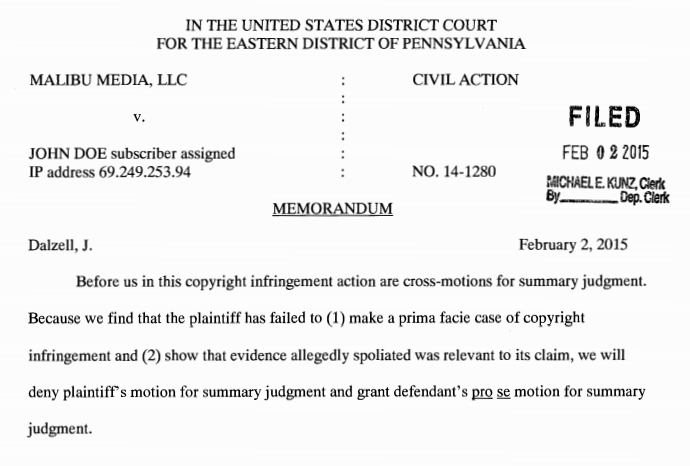 Hello everyone. It's been a little while since the last Malibu case update. I've been quite busy helping people both settle and litigate Malibu cases.
This post is to update you on two recent, notable cases where the reach of Malibu Media lawsuits has been limited by the courts. In any federal civil case, the parties are entitled to certain amount of discovery of relevant evidence, governed, of course, by the judge. In the past, judges have granted Malibu very broad discovery, often allowing depositions and evidence gathering from friends and family.
Here are two cases where the judge chose tighter limits:
The first case is out of the Eastern District of Pennsylvania. You may recall that Malibu Media's first "trial" was held in the very same district. Judge Stewart Dalzell ruled on cross summary judgement motions that Malibu had not found any evidence of actual infringement and granted the pro se defendant's motion against Malibu. The case is number 14-1280.
This confirms that Malibu does have to prove the evidence exists in order to prove their case. Malibu cases can be won; defendants, under the right circumstances, can confidently challenge their case and make Malibu prove their claims.
The second case, which everyone is writing about, is remarkable for the fact that Judge Katherine Forrest, SDNY, has limited the discovery of evidence to just the defendant, and not the defendant's family and neighbors. In discovery of evidence, judges have the discretion to grant broad discovery and/or set limitations on it. Judge Forrest ruled that Malibu's accusation limits who they can pursue, and that pursuit of the defendant through deposing his family and neighbors amounts to harassment/embarrasment. The discovery was denied. This doesn't end the case, but it means judges are watching.
So, lessons learned:
You *can* fight Malibu Media lawsuits. Should you? That's where you will need individual legal advice.
Fighting the lawsuit doesn't mean Malibu Media automatically gets access to your friends and family. This, too, is where you will need competent representation.
If you or someone you know has received notice of a Malibu Media lawsuit, please call me immediately at 888-801-8681. I will be happy to speak to you myself and discuss your options. I charge fair, flat rates for most of my services, and work with my clients who need hourly representation to make the matter as affordable as possible.
Thank you for reading, and,  as always, I am,
Yours, truly,
Leonard French, Esq.